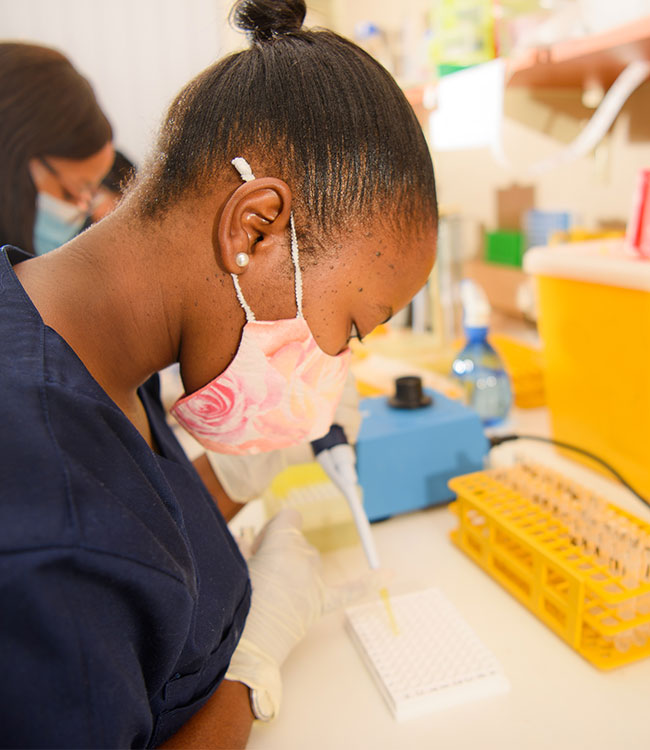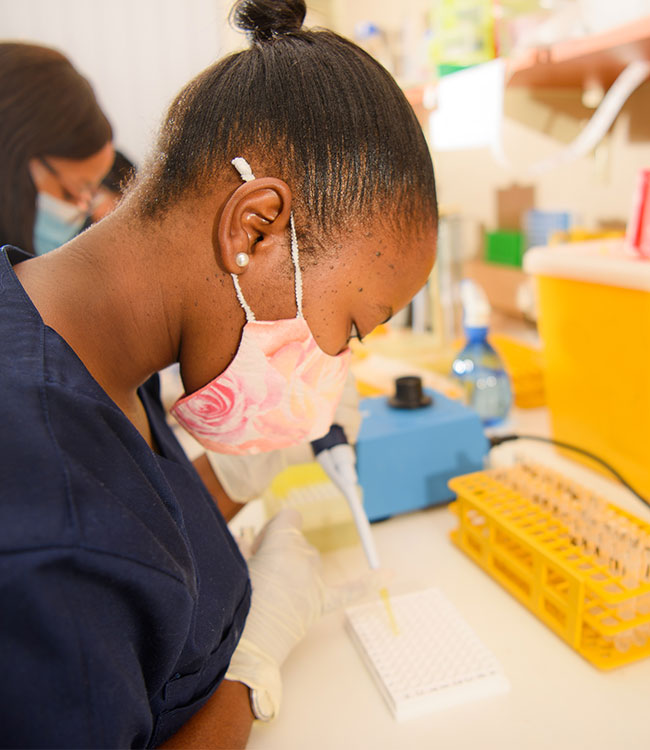 Focus Areas
Wits VIDA Research Unit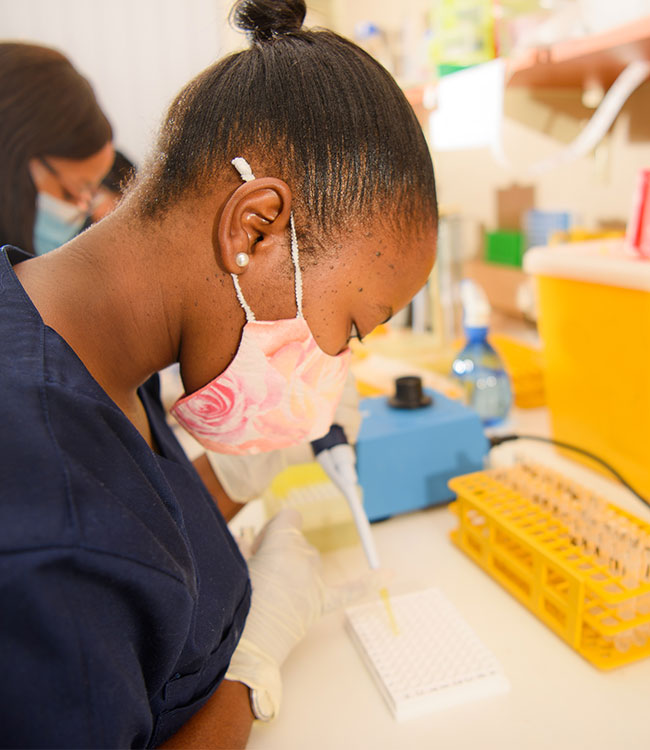 Wits VIDA's current focus areas include next-generation vaccines against rotavirus and TB, as well as development of novel vaccines targeted at pregnant women to protect their young infants against the leading causes of sepsis and pneumonia. Furthermore, Wits VIDA is one of seven participating units in the multi-country Child Health and Mortality Prevention Surveillance (CHAMPS) programme, which aims at providing refined estimates as to the causes of stillbirths and under-5 childhood deaths in low-middle income countries (LMICs).
In 2020, Wits VIDA embarked on leading the first two COVID-19 vaccine studies on the African continent, the Oxford and Novavax trials, and has undertaken multiple epidemiological and immunology studies on COVID-19 in healthcare workers, adults and pregnant women.
Research Focus
Overview
Through this research Wits VIDA aims to identify protein antigens common to most GBS invasive isolates with potential to be developed into vaccine candidates; as well as pre-clinical and clinical development and evaluation of GBS polysaccharide-protein conjugate vaccines.
Key areas of research:
Evaluate the prevalence of GBS colonization (including genetic characterization) in mother-newborn dyads and association with serotype-specific capsular antibodies in LMIC South Asian and African countries.
Determine the association of GBS surface protein antibodies against invasive GBS disease in infants and maternal colonization during pregnancy.
Collaborate with an international consortium on establishing a GBS standardized assay for evaluating vaccine responses.
To investigate for a correlate for protection against invasive GBS disease in neonates, which will be a potential pathway to licensure of a GBS vaccine for pregnant women.
To Undertake genetic characterization of GBS invasive disease and colonizing isolates in South Africa.
Evaluate the prevalence of serotype-specific memory B cells and impact of GBS rectovaginal acquisition on B cell responses during pregnancy.
Group B Streptococcus association with vaginal microbiome among pregnant women.
Determine the prevalence multiple GBS serotypes in pregnant women.
Animal model studies to evaluate of GBS protein epitopes (using in silico reverse vaccinology methods to being associated with protection against invasive disease) and multivalent capsular polysaccharide vaccine as being potential vaccine candidates.
Overview
This research aims to identify protein antigens common to most GBS invasive isolates with potential to be developed into vaccine candidates; and clinical Building on past research on maternal influenza vaccination in protecting the women and their young infants against influenza illness, this research will address remaining questions geared toward better understanding the immune mediators for protection, especially among women living with HIV.
Studies include:
Immune responses to Group-1 stalk protein antibody in women living with and without HIV (previously enrolled in the efficacy trial and randomized to receive inactivated influenza vaccine (IIV) or placebo). This study will assist in understanding the disconnect between vaccine efficacy (high) and modest-low immunogenicity when measured by hemagglutinin antibody assays as is traditionally done in studies on IIV. The results from this study could also inform whether the stalk protein has potential into being developed as universal influenza vaccine, at least for Group-1 influenza viruses.
Investigate whether maternal influenza vaccination reduces severe disease among infants, with the clinical endpoints in the previous efficacy study mainly having represented mild illness. In particular, we will also try to address the effectiveness of maternal influenza vaccination for infants born to women living with HIV (i.e. HIV-exposed uninfected [HEU] infants). Also, we will investigate the role of maternal influenza vaccination in reducing hospitalization from all-cause pneumonia.
Key areas of the research:
Impact of the vaginal microbiome on risk of poor obstetric outcome, and risk for early-onset sepsis in the neonate. Pregnancy is normally a healthy physiological process that sometimes has complications such as pre- eclampsia and adverse outcomes including low birthweight (<2500 g), preterm birth (<37 weeks), growth restriction, miscarriage and/or stillbirth. In pregnant women, an abnormal vaginal microbiome has been suggested to be a risk factor of these perinatal complications.
Burden of congenital cytomegalovirus (CMV) infection and association with stillbirths. Although the dogma has been that CMV infection during early life in Africa, leads to the majority of child bearing women already being infected,
and consequently having developed immunity which is protective to their foetuses, provisional data by my team and others is now beginning to refute this. This new area of research in the Unit, will focus on the burden of congenital
CMV infection and its sequelae, and also undertaking molecular characterization of CMV positive samples obtained from infants diagnosed with congenital CMV infection, as well as from CMV associated stillbirths.
Overview
Wits VIDA was pivotal in the introduction of the PCV into the South African National EPI. South Africa became the first African and middle-income country to introduce PCV into public immunization program in April 2009 following a study conducted by the unit. These findings were published in the New England Journal of Medicine, 2003. The findings informed global policy through recommendations made by the World Health Organization in 2007.
Wits VIDA has further played an integral part in measuring the impact of PCV introduction on child health in South Africa through participating in ground-breaking research [1][2][3][4]
Footnotes:
[1] von Gottberg A, de Gouveia L, Tempia S, Quan V, Meiring S, von Mollendorf C, Madhi SA, Zell ER, Verani JR, O'Brien KL, Whitney CG, Klugman KP, Cohen C; GERMS-SA Investigators. Effects of vaccination on invasive pneumococcal disease in South Africa. N Engl J Med. 2014 Nov 13;371(20):1889-99. doi: 10.1056/NEJMoa1401914. Epub 2014 Nov 11. PMID: 25386897.
[2] Izu A, Solomon F, Nzenze SA, Mudau A, Zell E, O'Brien KL, Whitney CG, Verani J, Groome M, Madhi SA. Pneumococcal conjugate vaccines and hospitalization of children for pneumonia: a time-series analysis, South Africa, 2006-2014. Bull World Health Organ. 2017 Sep 1;95(9):618-628. doi: 10.2471/BLT.16.187849. Epub 2017 Jun 26. PMID: 28867842; PMCID: PMC5578378.
[3] Madhi SA, Groome MJ, Zar HJ, Kapongo CN, Mulligan C, Nzenze S, Moore DP, Zell ER, Whitney CG, Verani JR. Effectiveness of pneumococcal conjugate vaccine against presumed bacterial pneumonia hospitalisation in HIV-uninfected South African children: a case-control study. Thorax. 2015 Dec;70(12):1149-55. doi: 10.1136/thoraxjnl-2014-206593. Epub 2015 Jun 19. PMID: 26092924.
[4] Cohen C, von Mollendorf C, de Gouveia L, Lengana S, Meiring S, Quan V, Nguweneza A, Moore DP, Reubenson G, Moshe M, Madhi SA, Eley B, Hallbauer U, Finlayson H, Varughese S, O'Brien KL, Zell ER, Klugman KP, Whitney CG, von Gottberg A; South African IPD Case-Control Study Group. Effectiveness of the 13-valent pneumococcal conjugate vaccine against invasive pneumococcal disease in South African children: a case-control study. Lancet Glob Health. 2017 Mar;5(3):e359-e369. doi: 10.1016/S2214-109X(17)30043-8. Epub 2017 Jan 28. PMID: 28139443.
Overview
Child Health and Mortality Prevention Surveillance (CHAMPS), funded by the Bill and Melinda Gates Foundation, works to save children's lives by collecting, analysing, and sharing accurate, timely data about the causes of child mortality in the regions where it is highest. CHAMPS transforms data into action, working at the local, national and global levels to ensure sustainable changes in policies, systems, and health interventions to accelerate improvements in child health. The CHAMPS study is in 6 countries in Africa and 1 country in Asia.
In South Africa CHAMPS started in 2016 and aligned with the broad CHAMPS objectives, minimal invasive tissue sampling (MITS) is done in children aged less than 5 years who die in the community or at health facilities in Soweto and Thembelihle.  Information for MITS, clinical/hospital records and verbal autopsies is assessed by a panel of experts to determine the reason why the child died as well as evaluate whether the death was preventable or not.
The CHAMPS programme has 3 streams:
The MITS stream that focuses on collecting MITS and other relevant information used to ascertain cause of death,
The Health and Demographic Surveillance System (HDSS) stream (the first urban HDSS in South Africa, one of only three urban HDSS sites in Africa). The HDSS was established in 2017 and includes 125 000 individuals in 33 000 households in Soweto and Thembelihle. The HDSS team collects individual and household data aimed at understanding reasons why child death happens and the individual and household circumstances surrounding such death. The HDSS aligned with MRC-VIDA maternal and child health research mandate, is primarily focussed on pregnancy outcomes and under-5 childhood deaths.
The SBS stream that engages the community to understand the community context in which maternal problems and child deaths happen. The SBS team collects qualitative data that assists to understand community perceptions, cultural norms and myths that influence disease occurrence and subsequent prevention.
Overview
Despite the reduction observed in pneumonia hospitalization since the introduction of pneumococcal conjugate vaccine into the public immunization program in South Africa, pneumonia still remains a leading cause of hospitalization and death among children in South Africa and globally. Also, pneumonia during early childhood might lead to long- term sequelae such as recurrent wheezing and asthma, particularly if due to respiratory viruses.
Specific projects include:
Burden of RSV during early infancy in HIV-exposed and HIV-unexposed children and correlate for protection against RSV hospitalization in infants <6 months of age.
Evaluation of RSV Lower Respiratory Tract Infections (LRTI) hospitalization during the first year of life on subsequent lung function sequelae.
Vaccination of pregnant women with RSV F-protein vaccine aimed to protect their young infants.
In addition to the first completed study on the efficacy of maternal immunization with a nano-particle RSV F-protein vaccine for protection of their infants, the UD will be involved in the clinical development of pre-fusion F-protein vaccine candidates also targeted at pregnant women.
Evaluation of RSV genomic variation across different countries over 5 years.
Epidemiology and Pulmonary Sequelae Development in Children with Human Metapneumovirus (hMPV).
Identification of virulence genes from non-typeable Haemophilus influenzae isolates recovered from pneumonia cases and community controls to establish whether any specific virulence genotypes are more likely to be associated with nontypeable Haemophilus influenzae (NTHi) associated pneumonia.
Classification of respiratory infections: a microbiome approach. NGS will be used to identify the bacterial microbiome present among pneumonia cases and community controls. This collaboration is being led by Dr Debby Bogaert (University of Edinburgh, Scotland).
Key areas of the research:
Study on the immune mediators which might contribute to HIV-exposed uninfected infants (HEUs) having a higher incidence of severe infections, hospitalizations and death than HIV-unexposed uninfected infants (HUUs), and also lower responses to some vaccines. The mechanisms accounting for the HEU immune defects are not known. Excessive immune regulation is a unifying hypothesis that may explain the multiple immune defects. This collaboration, with enrolment being done at the UD site, is being led by Dr Adriana Weinberg (Colorado University, USA) and includes broad expertise in paediatric immunology, infectious diseases, epidemiology, and microbiology.
Safety and immunogenicity of measles vaccine, varicella vaccine and hepatitis-A vaccine in HIV-exposed and HIV- unexposed South African children.
Overview
Wits VIDA established a sentinel‐based hospital surveillance for investigation of SARS‐CoV‐2 in hospitalised patients in 3 provinces in South Africa. We are evaluating the disease burden and clinical outcomes in people living with HIV and those without HIV following COVID-19 hospitalisation. In parallel we are undertaking post-mortem minimal invasive tissue sampling in fatal cases of COVID-19.
Along with our long standing interest in maternal and neonatal health we are assessing if SARS-CoV-2 infection during pregnancy is associated with poor foetal outcomes. Since healthcare workers (HCW) are at the frontline of the COVID-19 outbreak response they are exposed to threats that put them at high risk of infection. On a longitudinal cohort study we are also investigating the epidemiology of SARS-CoV-2 infection among HCW from Chris Hani Baragwanath Academic Hospital.