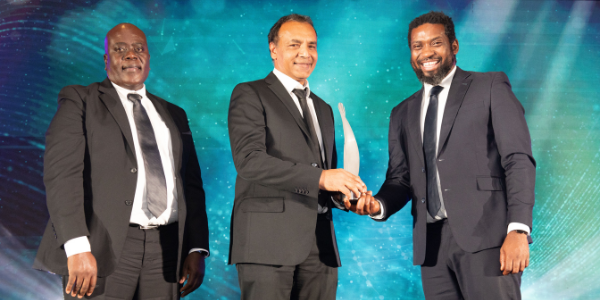 Professors Shabir Madhi, Sehliselo Ndlovu and Tamiru Abiye were winners at the 2021/2022 National Science and Technology Forum (NSTF)-South 32 Research Awards.
The annual awards ceremony, widely regarded as the 'Science Oscars', took place at gala dinners at venues in Johannesburg, Cape Town and online, on 21 July 2022.
Vaccines save lives
Professor Shabir Madhi won the Lifetime Award, which recognises the research of an individual over 15 years or more. Madhi is the Dean of the Faculty of Health Sciences and Professor of Vaccinology at Wits.
The award pays tribute to his leadership in researching vaccines against life-threatening diseases in Africa and globally, and for being at the cutting-edge of research in this area since 1997.
A National Research Foundation A-rated scientist and a paediatrician, Madhi's research over 25 years has focused on the epidemiology and clinical development of vaccines against pneumonia and diarrhoeal disease. These studies have informed World Health Organization recommendations on the use of the lifesaving pneumococcal conjugate vaccine and rotavirus vaccine in children, and flu vaccination of pregnant women.
Madhi is also Director of the SA Medical Research Council Vaccines and Infectious Diseases Analytics Research Unit (Wits-VIDA), in which capacity he led South Africa and Africa's first Covid-19 vaccine trials (Oxford/AstraZeneca and Novavax Covid-19 vaccine). Over the course of the pandemic (2020-2022), Madhi has been an outspoken, articulate and ardent advocate of Covid-19 vaccination as well as for increased access to these and other vaccines in Africa.
On accepting his award, Madhi said that the Covid-19 vaccines had saved an estimated 20 million lives. He dedicated his NSTF-South32 Award to the 300 000 South Africans who lost their lives to Covid-19 due to the stymied national vaccine rollout programme, and to the estimated thirteen million people worldwide who succumbed to this now vaccine-preventable disease.
Dedication to water science
Professor Tamiru Abiye in the Hydrogeology Programme in the School of Geosciences won the TW Kambule-NSTF Award: Researcher, for his dedication to water science and focus on building research capacity and solving community problems to attain sustainable development in South Africa.
Because Africa has massive groundwater reserves which are resilient to climate change, Abiye's research advances the sustainable use of groundwater to alleviate poverty and enhance economic development.
Abiye was not in Johannesburg to collect his award personally, but said "I am very honoured for receiving the NSTF-South 32 Award and I am grateful for the recognition, which means that I am doing something good for South Africa in regards to human capacity-building in the field of hydrogeology, with profound support from the University of the Witwatersrand. I wish also to thank Professor Gillian Drennan, Dr Robin Drennan, and Professor Zeblon Vilakazi for nominating and supporting me."
Abiye is an NRF-rated researcher and registered Professional Natural Scientist in South Africa with some 30 years of experience in the field. He envisages Wits becoming a hub to train groundwater professionals to solve critical water supply problems on the continent. Such capacity-building will contribute to achieving sustainable development at a time of increasing population, climate change impacts, water pollution, and lack of proper water management.
Ensuring sustainable metals in future
Professor Sehliselo 'Selo' Ndlovu won the Engineering Research Capacity Development Award, which recognises an individual contribution over the last five to ten years.
Ndlovu is Professor of Metallurgical and Materials Engineering in the School of Chemical and Metallurgical Engineering and the Department of Science and Innovation/National Research Foundation South African Research Chairs Initiative Chair in Hydrometallurgy Sustainable Development at Wits. She was the only black woman in engineering sciences to hold a research chair when it was awarded in 2015.
The Award acknowledges Ndlovu's hydrometallurgical engineering, which focuses on ensuring a sustainable future supply of metals by developing processes and building capacity and skills that can drive and contribute to the extractive metallurgical industry.
Ndlovu thanked the awarding panel for the honour, adding "I am also very grateful for the support that I have received from my institution, the University of the Witwatersrand, and my School, the School of Chemical and Metallurgical Engineering. It would not have been possible to attain such research achievements without the support that they have provided all these years. And to all my fellow finalists for this award, I look up to you: You have set the benchmark of excellence for me, and to be on the same list as you is one of my greatest achievements." Ndlovu also extended her gratitude to her family and friends for their unwavering support and dedicated her award to them.