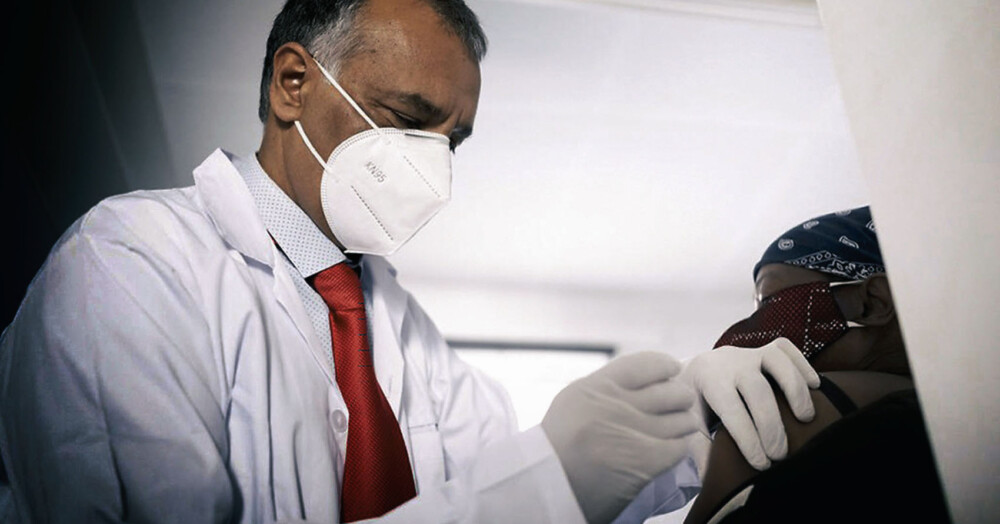 Covid-19 resurgences are inevitable in SA until 2022 – but the collapsed care for patients is not, says Madhi
Gauteng is experiencing a Covid-19 resurgence like never before – yet, proportionally, fewer people are being admitted to hospital and dying from the virus during the third wave, says Professor Madhi. So why is the province's health system failing its patients? 'A series of own goals' caused by poor planning.
"The only way out of this [the third wave of Covid-19 infections] is to ride the storm," said Madhi. Nevertheless, the country should not be in this situation and it could have been avoided, he said.
He was speaking to Judge Dennis Davis as the number of daily cases in Gauteng exceeded those seen during the province's first and second waves of Covid-19 infection.
"Government should have ensured that we got high-risk individuals vaccinated and not only 1 or 2% of the population.
"It is extremely unfortunate that Gauteng finds itself in such a difficult position after the billions of rands it's already spent to build Covid-19 facilities which are highly resourced with equipment; but someone seems to have forgotten that for those beds to be of any use you need to actually staff the facilities," he explained.
He has visited two of these new facilities and seen the state-of-the art equipment himself. There are 1,000 Covid-19 beds in Gauteng that are empty because the necessary staff have not been employed, Madhi explained.
The facilities that do have staff are facing additional pressure because of the closure of Charlotte Maxeke Hospital. "We have lost 300 beds."
It was a matter of extremely poor planning – there had been predictions in January that there would be a resurgence in May or June 2021. "No one should say that this comes as a surprise. It was completely predictable."
The Gauteng health department has had a moratorium on hiring new staff since April 2021, he said. It specifically put a stop to hiring personnel for the Covid-19 response. Posts that had opened at the hospitals had not been filled "simply because of budgetary constraints, seemingly".
The staff of Charlotte Maxeke Hospital have been sent to other facilities, but it is unclear whether all of them have been redeployed, Madhi said. This group staffed 300 Covid-19 beds during the first and second waves – if they were sent to the Covid-19 facility at Chris Hani Baragwanath Hospital another 300 beds could be used, which would ease the pressure on other private and public facilities, he suggested.
In addition, the staff who manned the now-closed Nasrec field hospital had not been deployed elsewhere.
Madhi agreed with Davis that this is a "series of own goals". Gauteng's health facilities are having an experience which is worse than the first or second wave because of this "series of mishaps", said Madhi.
What had surprised him was the magnitude of the resurgence. "I didn't expect it to be as bad as it is currently evolving to be." The incline is much steeper than the first and second waves.
Gauteng has not yet reached its peak, yet the daily infection rate is already double the peak of the first and second waves, he explained.
The size of the resurgence had ballooned because complacency had crept in when people gathered indoors. "In the last 15 months we have learnt that 85% of cases are either directly or indirectly linked to gatherings indoors.
"Again, this was predictable for this time of year – we knew people would gather indoors as it became colder and shut windows."
In addition, those communities which were "relatively spared" during the first and second waves may be the source of new cases this time around, he said.
It is likely that variants have a role to play in the high numbers in Gauteng, especially the Delta variant which seems to be on the increase, Madhi said. It was 60% more transmissible than the Alpha and Beta variants. The Delta variant also makes people more ill.
However, the rate of hospital admissions and death relative to the rate of infection is disproportionately lower than during the first and second waves, he said. "These numbers might be equal to those of the first and second wave, but it could have been worse."
He expected the wave to peak in the week of 28 June or 5 July. However, hospital admissions and deaths would continue beyond this and place pressure on the health system – probably until the end of July.
A stricter lockdown for Gauteng "will absolutely not" help now – "that horse has bolted". The resurgence was about to peak and would decrease not because of a lockdown, but because a significant part of the population became infected over a short period, together with mask use and avoidance of mass and indoor gatherings.
Current vaccinations would have a "nominal effect" on the third wave in Gauteng. Madhi explained that it takes weeks for the first Pfizer dose to provide some protection against severe disease.
Nevertheless, it needs to be sped up as there were more than 700,000 unused doses at the end of last week nationally while the Western Cape was complaining of a shortage, he said.
However, it is good news that those over 50 can register from next week, he added. Only a quarter of those over 60 had stepped forward to be vaccinated – not because of hesitancy, but because of issues with access.
One example is that those between the ages of 60 and 80 without medical aid cannot go to a private site, even if it is the most accessible to them.
What of the resurgence in the other provinces?
The Eastern Cape, Western Cape and KwaZulu-Natal were disproportionately affected by the first and second waves, according to seroprevalence tests, said Madhi. These tests detect antibodies in the blood – if they are found, they indicate the person was previously infected.
"This may have resulted in greater herd immunity which could be delaying the resurgence in those places, but we are likely to see an ongoing increase."
In terms of vaccination "we need to be measured in our expectations". For instance, there is much excitement about teachers being vaccinated but vaccination is not going to protect them from getting mild Covid-19, but rather from hospital admission and death, he said.
"We need to know this because the last thing we need is for teachers to gather, for instance in tea rooms, because they might get infected."
Both the Pfizer and Johnson & Johnson Covid-19 vaccines work relatively well against the Delta variant, as opposed to the Beta variant, he said. The Beta variant was currently dominant in South Africa, but there were signs of an increase in the Delta variant in Gauteng.
One of the biggest mistakes the government has made is its decision not to use the AstraZeneca vaccine, which has proven to provide some protection against the Beta variant, said Madhi.
The World Health Organization had recommended the use of this vaccine, but the government went against this advice. More than 1.5 million vulnerable people could have been vaccinated with this vaccine by now and hundreds of lives saved, he said.
It was the most widely manufactured Covid-19 vaccine and remained the "workhorse" jab in low- and- middle-income countries. There was much more evidence that this vaccine worked compared with the Sinovac and Sputnik V shots currently under review in South Africa.
"What is the motive for putting pressure on the South African Health Products Regulatory Authority to register these vaccines, largely in the absence of evidence of how these vaccines work against the Beta variant? There is much more evidence to show AstraZeneca works against the variant."
Even if more than 60% of the country was vaccinated, it would experience resurgences of Covid-19 "well into 2022" because the current generation of vaccines were not designed to tackle the Beta variant.
"In our context, our goal is all about ensuring people are protected from severe disease and dying." If most vulnerable people were vaccinated, we could live with another resurgence and "ride those waves and come out of it relatively unscathed".
Madhi expects another resurgence in December 2021 and said the target should be to vaccinate the 14 million vulnerable people by the end of September. "That would be an achievement".
By Christi Nortier, 25 June 2021