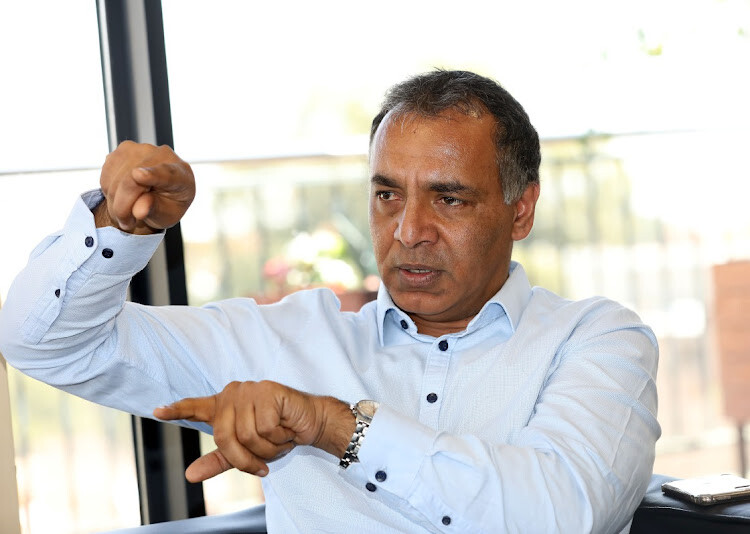 Prof Shabir Madhi has given a stream of expert commentary on the Covid-19 pandemic for nearly two years, whether it be on radio, television or in print and he is still at it.
Madhi, a decorated academic, has established himself as a voice of reason in the battle against the pandemic, playing a crucial role in educating the public about the behaviour of the virus and warnings on what to expect.
The highly rated professor of vaccinology at the University of the Witwatersrand in Johannesburg, who also serves as the dean of the faculty of health sciences, has been so busy he could hardly find time to sleep.
But in between fielding countless calls from journalists, fulfilling his multiple responsibilities that include serving on the ministerial advisory committee on Covid-19, Madhi still found time to watch his favourite football team – Arsenal.
Madhi, who was born in Pretoria but later raised in Lenasia, south of Johannesburg, says growing up he did not want to study medicine. His dream job was becoming an engineer.
"I never wanted to do medicine. The main reason I did medicine is that my father was a teacher but wanted to do medicine. Obviously in the 1960s there were very limited opportunities for people of colour to do medicine. He put a fair amount of pressure on me and my brothers to do medicine," Madhi said.
When Madhi finished matric in 1984 he learnt that even with an engineering qualification he would struggle to find a good job because of the colour of his skin.
He then realised at the time that with medicine he could become independent and not be at the mercy of a white paymaster.
Another push factor to the field was the bursary he received to pay for his studies only if he did medicine. Madhi did specialised training in paediatrics at Chris Hani Baragwanath Hospital after finishing his medical studies.
At that time, he says, what was disturbing for him was that children were still dying from measles and tetanus. Vaccines for measles were developed in the 1970s and for tetanus since the 1940s. But in SA, children were still dying from the two. Pneumonia was another killer for children.
After finishing his training, Madhi had developed interest in not just treating children but preventing little ones from getting into hospital.
He got involved in a large study that was to be conducted in SA on the pneumococcal vaccines. Their use can prevent some cases of pneumonia, meningitis and sepsis.
But it is perhaps Madhi's courage in his medical career that has seen him rise above the rest over the years. He has been able to stand for science even against the political elite.
He says his ability to stand for truth was harnessed while he was chairperson of the Black Students Congress at medical school in the 1980s. At that time 80% of the students at the Wits Medical School were white.
Over the years he has become even firmer in sticking to science even in a time of crisis in what he describes as "being open about what is working and what is not to society".
"It is important for the public to know the facts and not to be misled. What really concerns me with Covid-19 is that many a times government misleads people. When government insisted that SA was performing well three weeks into level 5 lockdown, they said that SA was in this unique trajectory which put us above any other country in terms of how well we've managed it.
"That was scientifically flawed in every dimension. To make a comparison between SA and China, South Korea and the UK made absolutely no sense," Madhi said.
He says SA did badly in its handling of the pandemic initially as it had less testing, health facilities did not have enough equipment, including personal protective equipment.
For Madhi, Covid-19 unmasked that the SA health system is not resilient. It also showed that there is no buffer to handle any external shock, something the government needs to sort out urgently.
This is the case both in the private and public sector, Madhi argues.
"Even without Covid-19, when you look at our ICUs, they always operated beyond 100% occupancy. The majority of our ICU wards have a waiting list of people needing to get into the ICU and they usually die before getting the care they need.
"Our health system always operated under pressure. All Covid-19 did is that it provided some pressure to it and it almost broke apart. The only thing that saved us is restricting alcohol as it gave us beds that would ordinarily have been occupied by people with trauma," Madhi said.
Mahdi is also against maintaining the lockdown, which he says has not worked and will not do so in the future.
"We should not be even at level 1. We need to have some level of restriction. What we need is restrictions around indoor gatherings. People that are not vaccinated must not be allowed in indoor gatherings," he said.
He explained why governments in other countries have allowed large gatherings, particularly sports ones.
"It is not because coronavirus has gone away [in the UK], they have the resurgence happening right now but they can still allow for a complete opening of society because 90% of adults have been vaccinated. They will have infections but people are not going to end up in hospitals and you are not going to have a large number of people dying. What you are trying to protect against is healthcare facilities being under extreme pressure," he said.
"We should not be worried about the infections. Vaccines work best in protecting against diseases and death. They work against infections but less well. Vaccines provide about 40% to 50% protection against being infected with the Delta variant. But vaccines provide more than 90% protection from dying from Covid, due to a Delta variant."
Mahdi warns that the country will still have a further resurgence next year and the only thing that can help citizens is if the adult population is vaccinated.
But the vaccination programme is yet to reach its targeted peak in SA and Madhi blames the government for introducing online registration in the beginning, which he says "exacerbated inequality".
He says the government also missed the mark when it only allowed people with medical aid to vaccinate in private facilities.
Mahdi proposes that the government, scientists and academic institutions plan ahead in order not to be caught by surprise in the next pandemic. This includes building vaccine manufacturing capacity and producing the right kind of skills to be able to produce vaccines.
The professor is now working on the development of a vaccine that helps prevent babies under three months from developing severe blood infection from a bacteria known as group B streptococcus.
He is also involved in an epidemiological study looking at the impact of Covid-19 on children, pregnant women and adults.
Source : https://www.sowetanlive.co.za/news/south-africa/2021-10-18-madhi-at-forefront-of-battle-against-covid-19/